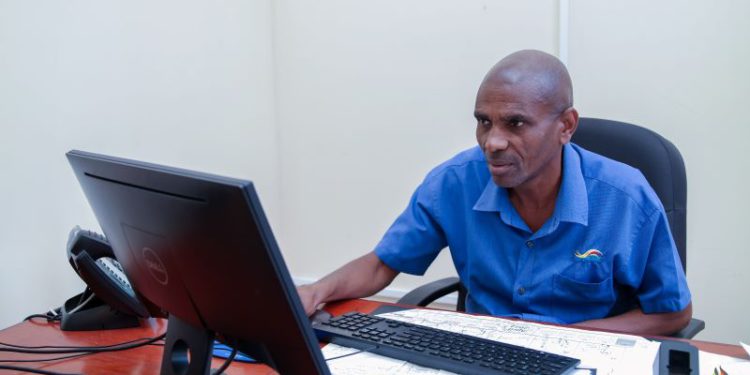 DELEGATION FROM THE FEDERATION BENEFITS FROM ENERGY EFFICIENCY AND RENEWABLE ENERGY WORKSHOP HELD IN BARBADOS
Basseterre, St. Kitts, January 30, 2023 (SKNIS): A delegation of 14 people from the Federation of St. Kitts and Nevis benefited from an energy efficiency and renewable energy workshop which was held in Barbados from January 16 to 20, 2023.
Persons who travelled to this workshop came from the Energy Unit, SKELEC, NEVLEC, and the Nevis Island Administration.
Director of the Energy Unit, Dr. Bertill Browne was a part of the delegation that traveled for this workshop and said that the entire delegation learned a lot.
In an interview last week, he spoke about his experience at the seminar.
"The first two days dealt with energy efficiency, and it looked at ways in which we could improve the energy efficiency within the Federation. The other days looked at renewable energy and how we could model renewable energy projects to ensure that they don't destabilize the grid. It stressed large renewable energy projects and grid stability which was the main focus of that particular workshop," said Dr. Browne
He stated that renewable energy resources destabilize the grid because of their inconsistency. He said, "For example, you can have a solar farm on the grid, and it is shining bright with a particular output, but it changes when a cloud passes by."
Dr. Browne also added that the workshop educated the stakeholders on how to combat destabilization. He said, "The main way is storage to combat destabilization as the battery would kick in when there is a drop in output and also these distributions (renewable energy projects) would not be at a single location, they would be distributed and that would affect how currents flow in the line."
"They were showing us how to model them so we can find out even before they were implemented how they would affect current flow in the electrical lines," he said.
He said that going forward large projects will have to have storage if the Federation of St. Kitts and Nevis is to move towards 100% renewable energy.