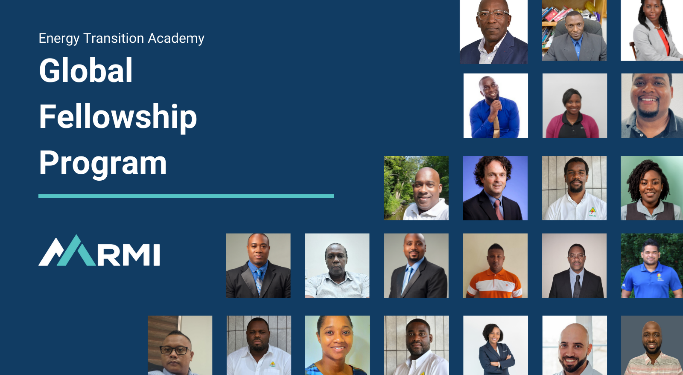 RMI and CARILEC Welcome 23 New Fellows from 12 Countries Across the Caribbean to Advance Renewable Energy and Climate Resilience
Castries, Saint Lucia – September 22, 2022, This week, RMI, with support from CARILEC, launched its second ETA Global Fellowship Program. This year's cohort includes participants from 11 utilities and two governments, which expands on the previous cohort that spanned three utilities. The program will empower and connect fellows working on renewable energy portfolios across the region, aiming to scale the capacity of utilities to advance renewable energy projects, build climate resilience and meet national and international climate goals.
In the Caribbean, where island nations are prone to hurricanes, it is critical to strengthen climate resilience.
"The Global Fellowship Program aims to build the capacity of local utilities by upskilling well-positioned professionals who can serve as clean energy champions in the industries responsible for building and maintaining infrastructure in the Caribbean, "said Amber Zirnhelt, manager, Energy Transition Academy and RMI. "This capacity growth is critical to meet 2030 climate goals."
The fellows will engage in a five-month program focused on solar-plus-battery-storage microgrid development. In addition to a technical training component, fellows will learn first-hand from other utilities and experts in the field, exchanging lessons learned and best practices in project development and management. The curriculum is designed to respond to the training needs of participating utilities.
RMI is collaborating with CARILEC to extend the fellowship offering to a larger number of CARILEC member utilities, and to share key learnings from the program.
"CARILEC has long been a forerunner in the journey towards energy transition in the Caribbean. It is a matter of critical importance to us, given that sustainable energy is pivotal to the continued operational efficiency of the region's utilities and energy-affiliated organizations," said Laurena Primus, learning and development manager, CARILEC. "This work is so important because the Caribbean is especially vulnerable to the effects of climate change, as evidenced by the extreme weather events that impact the region. CARILEC will continue to play a leading role in this effort and is particularly pleased to partner with RMI to facilitate increased learning, networking and expertise sharing among renewable energy practitioners."
The program showcases leading regional examples of renewable energy projects, providing fellows with hands-on-learning opportunities on these projects from conception to commission.
"One of the reasons we all have these renewable energy goals is to combat climate change, the effects of which we have experienced in the Virgin Islands with category five hurricanes", said Clyde Potter Jr, ETA fellow and electrical engineer and metering foreman with the British Virgin Islands (BVI) Electricity Corporation. "We may not be able to stop that level of hurricane from happening again, but we can stop them from getting worse, and I'm happy to be part of that mission."
The second Global Fellowship cohort represents 12 countries, with women making up 22% of the fellows. Some fellows are also members of the Women in Renewable Energy Network (WIRE), a professional development network aimed to empower and connect women in the clean energy space. RMI recently acquired WIRE as part of its deep commitment to bolster gender equity in the energy sector, and all women in the Global Fellowship Program will be encouraged to become members.
Participating utilities and governments for this round of fellows include the Bermuda Electric Light Company, Dominica Electricity Services Ltd., Fortis TCI Ltd., Grenada Electricity Services Ltd., Guyana Power and Light Inc., Jamaica Public Service Co. Ltd., NV Energie Bedrijven Suriname, Saba Electric Company, St. Kitts Electricity Company Ltd., St. Lucia Electricity Services Ltd., St Vincent Electricity Services Ltd., the Government of Bermuda, and the Government of Antigua and Barbuda