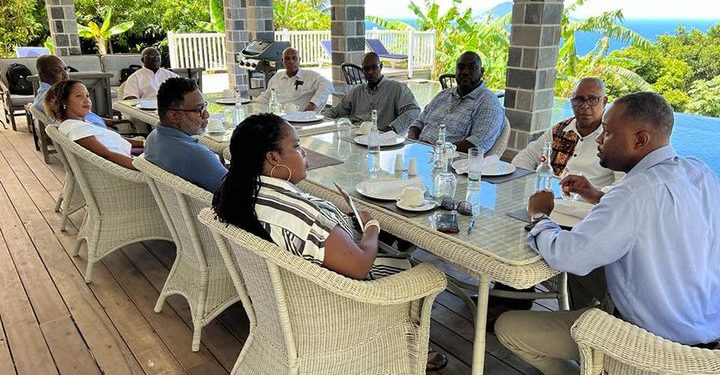 Major Geothermal Energy Collaboration Expected Between St. Kitts and Nevis
Basseterre, St. Kitts and Nevis, October 24, 2022: The Minister of Environment and Climate Action Hon. Dr. Joyelle Clarke and Minister of Energy & Utilities Hon. Konris Maynard met with several stakeholders on Sunday 23rd October 2022 to discuss proposals for short, medium, and long-term actions that are necessary for a secure and resilient energy sector in St. Kitts and Nevis.
Also present at the meeting were Dr. Devon Gardner, Head of Technical Programmes at the
Caribbean Center for Renewable Energy & Energy Efficiency (CCREEE); Mr. Joseph Williams, Sustainable Energy Adviser at the Caribbean Development Bank (CDB), Permanent Secretary (PS) in the Ministry of Environment & Climate Action, Ms. Sharon Rattan; Permanent Secretary (PS) in the Ministry of Energy & Utilities' Mr. Daryl Lloyd; Mr. Clement Jomo Williams, General Manager at SKELEC; Mr. Albert Gordon, General Manager at NEVLEC; Ms. Naftalie Errar, Project Manager for Geothermal Project on Nevis; and Mr. Ian Ward, Chief Engineer at NEVLEC.
The intent is that the proposals would provide decision-support to the Cabinet as it seeks to determine the appropriate energy future and energy mix for the Federation.
During the meeting they discussed with NEVLEC the interconnection of the Electricity Grid in St. Kitts and the Electricity Grid in Nevis as an interconnection affords the Federation the opportunity to have One Grid thereby increasing the resilience of power supply across the two islands.
Hon. Konris Maynard spoke to the collaboration between NEVLEC and SKELEC at the Prime Minister's Press Conference held on Monday 17th October.
"We are exploring the vast possibilities with geothermal energy. We had at least two (2) meetings thus far with the officials of NEVLEC and we are now at the point where there is going to be test well effectively being done o ascertain the viability of the geothermal reservoir that is there. At this point the thinking is that Nevis' geothermal wells will have enough energy in the first instance to support not only Nevis, but also St. Kitts. So they are collaborating with SKELEC on how we are going to integrate both of our grids such that we now create one grid for the Federation of St. Kitts and Nevis"
This would mean that as St. Kitts expands its power generation capacity driven by renewable energy sources, Nevis can benefit. Similarly, as Nevis' power supply expands to include renewable energy, St. Kitts can benefit.
Coming out of the discussions, PS Rattan and PS Lloyd will spearhead the establishment of an Energy Task Force with the goal of ensuring that our identified actions are effectively executed, and the necessary support structures are put in place.
Hon. Konris Maynard added that "The future certainly looks positive for a sustainable energy mix of Solar, Wind, Geothermal and others and we are doing the work to make it happen."
During the Prime Minister's Press Conference, Hon. Konris Maynard alluded to the said future, hinting that "we must imagine and explore other possibilities".
"If it is that this initial exploration [geothermal collaboration between NEVLEC and SKELEC] goes as is expected, and I understand the possibility of success is in the ninety (90) percentiles, then we have to look at the real options of going further, using St. Kitts and Nevis as a point to connect to other islands. Imagine a day when St. Kitts and Nevis could be the bright beacon in the northern Caribbean Sea, where we are providing energy not only for ourselves, but almost the entire Eastern Caribbean."
St. Kitts and Nevis are now in the transition phase where we are moving away from fossil fuels to exploring all the different mixes of renewable energy.